Our Authors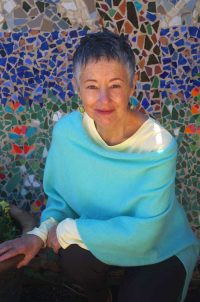 Veronica Golos
Veronica Golos' fourth poetry book, GIRL, deepens her impressive command of utterance and dialectic. Lifting off the page, the poems execute with precision the internal, deep prayered world of GIRL and the outer, harsh unprayered world. The poems articulate both the inability to express oneself and the refusal to do so as an act of self-hood and rebellion. Alternating voices rub against the sensual life: the splendid mane of horses, leaving the body for a night sky, the dive into green waters. Golos' use of poetic and visual form, prophesy, fairy tale, and myth captures a delicate vulnerability in a threatening world. Her poems invoke a frisson of daughtermotherhood—an arc of loss and reunion. GIRL reminds us of the intelligence of childhood: perceptive, gifted, imaginative—a communion between hope and ache.
Veronica Golos is an inimitable poet: In this book, the urgency of lyric impulse and the urgent beat of her musical lines give us the spell of a story. Cinematic, symphonic, endlessly inventive, this collection of poems…is an orchestra, it is a deeply moving myth.

—Ilya Kaminsky, Deaf Republic

Girl is inscribed by a poet gifting us with a work of fine art, combining nostalgia, pathos, symbolism, beautiful language, experimentation, and internal rhythm and music. These are poems in multiple, exhilarating narratives: a girl who does not "quite fit into the world", who talks to the gods and receives gifts from them; leaves her body and wanders around the night; knows the language of young horses' ears, hoofs, eyelashes. Girl is a thrilling book.

—Nizar Sartawi, My Shadow, Amman, Jordan

With a sure touch and fierce clairvoyance, Veronica Golos guides her reader to the uncanny crossroads of memory, prophecy, fairy tale, and myth. "What I know is more than thorn/and thistle," the poet assures us in a voice "burning with Yes,/damage, coil, but also/conduit." These deft poems read like the love children of Angela Carter and Sappho, bred in a decidedly American landscape: a fish market in Chinatown, the Thalia Theatre on the Upper West Side, aspen groves, ponderosa, lakes that have "the hush/of depth."  In this hush, magic happens: "Then the Wolf/Will raise one word,/And that word shall be Girl/And we shall be/Inside Him, again,/Whole." Golos has gifted her reader with a book of poems for grown-ups to grow up on.

—Cassandra Cleghorn, Four Weathercocks

In Girl, a complex symphony of voices, part memoir, part allegory, exposes truths of growing up in cultures where young girls and young women often fall prey to societal expectations and harm…Bittersweet and sensuous, through poems like "Daughterspeak" that calls to mind the natural world and earth as mother, Girl is a fairy tale for a modern world, vulnerable and ferocious.

—CMarie Fuhrman, co-editor, Native Voices: Indigenous American Poetry, Craft and Conversations
Veronica Golos is the author of the poetry books, Rootwork: Lost Writings of John Brown and Mary Day Brown (3: A Taos Press), Vocabulary of Silence (Red Hen Press, 2011), winner of the 2011 New Mexico Book Award, poems from which are translated into Arabic by poet Nizar Sartawi, and A Bell Buried Deep (Storyline Press, 2004), co-winner of the 16th Annual Nicholas Roerich Poetry Prize, nominated for a Pushcart Prize by Edward Hirsch, and adapted for stage and performed at Claremont School of Theology, Claremont, CA. Golos has lectured at Columbia University's Teacher's College, Hunter College, Julliard School of Music, Regis University, University of New Mexico, Dine Technical College, Kansas State University, and Colorado State University. She is co-editor of the Taos Journal of International Poetry & Art, former Poetry Editor for the Journal of Feminist Studies in Religion, and core faculty at Tupelo Press's Writers Conferences. She lives in Taos, New Mexico, with her husband, David Pérez.