Our Authors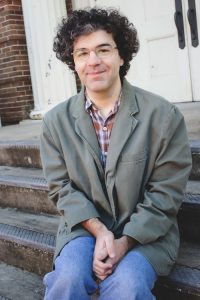 Jon Riccio
In his newest book, Agoreography, Jon Riccio writes of living through and with mental illness, trauma, and the redefining of intimacy when these conditions forefront daily life. Riccio navigates Obsessive-Compulsive Disorder, agoraphobia, and ultimate recovery with bargains, contingencies, and postludes to scenarios worst-cased. In keeping with the author's background as a classically trained violist— practice rooms, auditions, and orchestras—the sounds of these poems are as important as their revelations. Ultimately, this brilliant collection heralds a literary movement—The Confurreal or Confessional Surrealism—where admission fuses with sonic experiments, a vehicle for writers who weld kaleidoscope to truth.
Alien, and frighteningly familiar, Riccio's Agoreography dips the reader in surreal germaphobia, the dismantling of self, and the struggle to recover. A brilliant exploration. Despite the Jedi Kiss of formative sexual trauma, Riccio loves deeply— the notes of Joy Division and Stravinsky's Violin Concerto in D Major; laps in a pool, maintaining his Oberlin weight of 150. Everything, overtaken by illness—viola contaminated… clear as the callus on my neck. Swimming pools drained—Suppose I encountered a floating Band-Aid or spent condom? Through lyric mastery, Agoreography culminates in a new poetry movement: The Confurreal or Confessional Surrealism. I'm fascinated, ready to go there.

— Robert Carr, The Unbuttoned Eye

I know few other poets who have such an ecstatic relationship with the alphabet as Jon Riccio. The capacious vocabulary of Agoreography is contagious, and Riccio takes us through numerous forms and phobias with his logophilia. Music, isolation, and ritual all take on new dynamics in this collection through Riccio's linguistic dexterity. These poems have a savory textuality and a balletic line that make my ears hum while reading.

—Traci Brimhall, Come Slumberless to the Land of Nod

Wow! Jon Riccio's debut is linguistically intoxicating. Abounding with the tangible fears of the mind and inerasable betrayals, his torqued language pulls you in close but also thrills you with ravishing diction spliced into fierce lines that resonate, that refuse one-dimensional sense-making. Riccio's approach is polygonal and singular. He has written an outstanding book. Let me say it again: Wow!

—Eduardo C. Corral, Lannan Foundation Literary Fellow, Guillotine: Poems

How wonderful that Jon Riccio gives us Agoreography, its rollercoasters of complexity just enough of a muchness. Its over-the-top verbal inventions manage, often, to be both serious and playful; in one breath rueful, philosophical, and elegaic. Each poem, in its bravura performance of revelation, is language brought splendidly to market in defiance of phobia.

—Angela Ball, Talking Pillow
Jon Riccio received his PhD from the University of Southern Mississippi's Center for Writers and his MFA from the University of Arizona. A past Lambda Literary Fellow, his work has received support from the New York State Summer Writers' Institute, the Sarah Lawrence Summer Writers' Seminar, and Vermont College of Fine Arts Postgraduate Writers' Conference. His efforts as founder of The Confurreal or Confessional Surrealism Poetry Movement have been recognized with a Best of the Net nomination and University of Southern Mississippi Innovation Award. He is a contributing writer at 1-Week Critique and the poetry editor at Fairy Tale Review. In addition to Arizona and Mississippi, Jon's pedagogical experiences have taken him to the University of West Alabama and to Beijing Jiaotong University.