Our Authors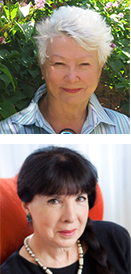 Madelyn Garner & Andrea L. Watson
Finalist for the Colorado Book Award, Collecting Life: Poets on Objects Known and Imagined offers an intriguing glimpse into the anthropology of collecting— what people love, value, and even obsess about in the passionate and occasionally quirky world of collecting. This fascinating anthology offers poems by emerging and established writers, including Denise Duhamel, Kimiko Hahn, Jane Hirshfield, Pattiann Rogers, David Trinidad, Christopher Buckley, and Gary Young.
With an Introduction by Bill Brown, Edward Carson Waller Distinguished Service Professor of English and the Visual Arts at the University of Chicago, a leading expert on the practice and art of collecting, the book provides crucial insights into the transformative nature of collecting through the singular lens of poetics.
Collecting Life is a must-read for writers, artists, collectors, and educators.
Madelyn Garner has been a creative writing instructor, textbook editor, and researcher at a variety of educational levels, including the University of Colorado and University of Northern Colorado. She is the sole educator to have received The Governor's Award for Excellence in the Arts and Humanities for her contributions to the arts in Colorado. Scholastic Magazine and the National Endowment for the Humanities have recognized her as one of the nation's most outstanding teachers of writing.
Madelyn has been the recipient of numerous fellowships and prizes for her writing, including the Aspen Writers' Conference Fellowship, the D.H. Lawrence Award from the University of New Mexico, the Jackson Hole Writers Conference Poetry Prize for 2010, and the Robinson Jeffers Tor House Honorable Mention for 2011.
Her most recent poetry has appeared in such literary journals as Nimrod, Harpur Palate, Saranac Review,Water-Stone Review, American Journal of Nursing and the anthologies: Beyond Forgetting, Poetry and Prose about Alzheimer's Disease and The Cancer Poetry Project 2.
A former New York book and magazine editor, Andrea L. Watson's poetry has been described by poetry critics as "the smiling face of the unexpected" and "unique worlds that welcome magical realism." Andrea's poetry has appeared in Nimrod, Rhino, Cream City Review, Subtropics, Ekphrasis, International Poetry Review, Memoir, and The Dublin Quarterly, among others. With poet Joseph Hutchison, she is co-editor of Malala: Poems for Malala Yousafzai (FutureCycle Press, 2013), the proceeds of which are dedicated to the Malala Fund for Girls' Education.
Andrea has designed and curated eighteen ekphrasis events of poetry and art across the United States, commencing with Braided Lives: A Collaboration Between Artists and Poets, sponsored by the Taos Institute of Arts, which traveled to Denver, San Francisco, and Berkeley. Other shows include Interwoven Illuminations, featured in Borderlands: Texas Poetry Review; The Sacred Blue; Frida-Fractured, honoring the life and work of Mexican artist Frida Kahlo; Reflections on RANE; Threaded Lives, with its book, Poems from the Fiber World; and, most recently, Fragments: Poets and Artists of the South and Southwest.