Our Authors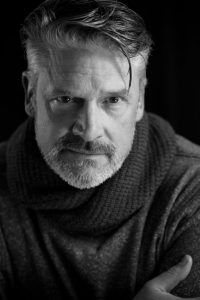 Robert Carr
As events unfold through the first decades of the AIDS pandemic, a public health crisis that transformed a generation, the speaker in The Unbuttoned Eye insists on the survival of the erotic in the face of life-threatening disease. In sex clubs, men eat whipped cream off bodies wrapped in cellophane. In a neighbor's home, a young man dies on a sofa as toxic medication from a drip line strips color out of fabric. These poems dive deeply into an emotional world of contradiction, as the speaker follows desire and detaches from intimacy in order to survive. Photographs of the poet as an artist's model whisper in dialogue with the reader and with the artist Robert Mapplethorpe as poems ask–Who are your dead? What is the texture of possession? This collection is an unflinching journey into the evolution of identity. Each poem challenges our definitions of compassion, trauma and love.
I know of no book that captures as well as Robert Carr's magnificent The Unbuttoned Eye does how all the phases of the history of gay sexual liberation in America, in retrospect, now seem to occur simultaneously—flirtation, seduction, hilarity, ecstasy, the discovery of specific erotic preferences (individual and shared), thrilling debauchery, romance, camaraderie, infection, medicalization, caretaking, mourning, elegy, euphoric recall and inevitable forgetting. Carr's superb poems are tender intensities full of awe, creating a charged ritual stage upon which our handsomest ghosts are aroused, and arouse us, again.

─ Patrick Donnelly, Little-Known Operas

"Who were we? What was your name? Is it the same name as now? If you like I'll pretend…"

From the trenches of the AIDS crisis at its nadir, comes Robert Carr's cri de coeur.  Whether the cry comes from decades back or yesterday's smallest hours, its fiery tenderness grips us in the right-now. Carr's lines have the texture of hurried love notes passed back and forth in a shimmering and illicit dark between the clenched fists of strangers and ghosts. They are ours to unrumple, but at the risk of transformative heartbreak. See us, say the innocently promiscuous and ravaged souls in The Unbuttoned Eye. Touch our wounds, cleanse them with recognition. Throughout Carr's bold, unsparing book, we see, we touch. We utter an involuntary, deeply human, yes.

─ Frannie Lindsay, If Mercy
Robert Carr was born in Annapolis, Maryland, in 1959. He is a graduate of Bates College in Lewiston, Maine where he studied philosophy and was an active member of the Bates Dance Ensemble. Following his undergraduate work, Robert moved to Portland, Maine where he pursued a brief career in the arts as an actor with the Children's Theater of Maine and as a model for local visual artists including K. Max Mellenthin (who photographed the images found in The Unbuttoned Eye).
In 1984, Robert moved to Boston, volunteered with the AIDS Action Committee, and became the first HIV testing counselor with the Massachusetts Department of Public Health. In response to the HIV pandemic, Robert engaged in a 30-year career in public health and currently serves as Deputy Director for the Bureau of Infectious Disease and Laboratory Sciences in Massachusetts.
The Unbuttoned Eye is Robert's first full-length collection of poems. He also is the author of Amaranth, a chapbook published in 2016 by Indolent Books. He is a Pushcart-nominated poet whose work has appeared in Arts & Understanding Magazine, Bellevue Literary Review, Rattle, Sonora Review, Crab Orchard Review, The Massachusetts Review, and other publications. He is co-editor for the Ghana Literary Group anthology, Bodies and Scars, and serves as an associate poetry editor with Indolent Books.