Our Authors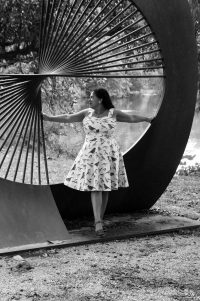 Melinda Palacio
In Bird Forgiveness, the poet reminds us what it means to be an observer who has learned something about herself and her relationship to the world. Melinda Palacio is fearless in her poetics on race, the environment, the precarious nature of birds, love, death, and forgiveness. In Palacio's third collection of poetry, forgiveness begins with a bird and ends in a final flight, life's complete cycle. The poet mourns the strong women who have come before her and honors the ways in which we let go in order to exist within songs of freedom and global sustainability.
These poems permit the reader to slow down in gratitude for time on earth. As a contemplation of existence, the poems witness how we navigate our humanity, while leaving some beauty for future generations. Palacio's poetic imagination resides in whimsical and wry tones that are rooted in feminism and in her experiences growing up Mexican-American in South-Central Los Angeles. Bird voices are not lost in Palacio's unflinching free verse; her ecopoetry addresses diversity, love and loss, migration and extinction.
Bird Forgiveness is a deeply nourishing and exquisite book about living. Melinda Palacio masterfully explores confinement, liberation, freedom, and flight. Abundant joy and wonder run through the poems—from the harpy eagle, to a bluebird named Elvis, to instructions on how to wash a duck—and they examine human behavior and relationships with wisdom and grace. This is a delightful, unforgettable book from a marvelous talent at the top of her game.

—Lee Herrick, Scar and Flower

As a lover of birds, I am a lover of Bird Forgiveness.  As a lover of poetry, I love these poems because though beaked and winged, in pain and in joy, they also take flight out of their occasion. With a focus on birds, the world is renewed, and the poet reminds us it is we who need forgiving. Melinda Palacio's birds touch us everywhere they fly: from a drowning of a homeless woman in Audubon Park to the oil spill damage to a duck. Like the birds she loves and mourns, Melinda Palacio migrates her songs between two coasts, Gulf and West, Latino and Anglo—and she asks for the poetic freedom birds have. Sometimes the poems appear as near sonnets, sometimes in utterly free shapes, but always this is a book of fierce mourning for the birds that fall at our feet, and for a grandmother who dies under her watchful care while caged birds quarrel. In the end Melinda Palacio sets all her birds free, and we remember what birds and poets have most in common—their wild song.

—Rodger Kamenetz, To Die Next To You

How wonderful to think that Melinda Palacio is writing poems so delightfully human, so unexpected in their movements  from wit to profundity, so uncompromisingly honest. Who else would recognize a bluebird as Elvis? Who else ask birds for forgiveness? Her finest book yet, Bird Forgiveness is a work of great modesty, invention, and abiding respect for all the living world.

—Rodney Jones, Village Prodigies
Melinda Palacio grew up in South-Central Los Angeles and now lives in Santa Barbara, California and New Orleans, Louisiana. She holds two degrees in Comparative Literature—a B.A. from the University of California at Berkeley and a Master's from the University of California at Santa Cruz.
Palacio is the author of the novel, Ocotillo Dreams, for which she received the Mariposa Award for Best First Book at the 2012 International Latino Book Awards and a 2012 PEN Oakland-Josephine Miles Award for Excellence in Literature.  She is currently working on a second novel.
Tía Chucha Press published Palacio's first full-length book of poems, How Fire Is a Story, Waiting. The collection was a finalist for the 2013 Binghamton University Milt Kessler Award and the 2013 Patterson Poetry Prize. She received First Prize in Poetry at the 2013 International Latino Book Awards at the Instituto Cervantes in Manhattan. In 2015, her work was featured on the Academy of American Poets' Poem-a-Day Program.