Our Authors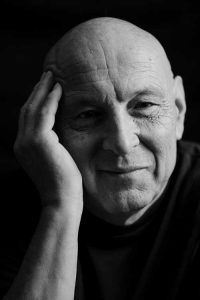 James Navé
James Navé wrote the first poem of this extraordinary book, 100 Days, because he had little else to do on April 1, the day after his prostate surgery. Navé also knew that every April, poets took up the challenge of writing 30 poems in 30 days. So, he decided to write a poem a day for 30 days and post each one on Facebook before midnight of each day. Navé understood he had an unusual opportunity to write a poetic field report about his healing. He knew if he didn't write it down, it would be lost forever. During the fourth week, Navé shifted his goal from 30 poems in 30 days to 100 poems in 100 days. He then reasoned that because 100 days spans a summer's growing season or a winter's fallow time, his 100 days (April to July) would see him through his healing time. He also knew that if he skipped one day, his poetic story would fizzle and die. Fortunately, Navé never missed a day. In this emotional volume, you'll find long haul truckers, Janice Joplin singing over a car radio, a rain forest in Navé's belly, a Learjet in a dream, and, finally, questions after each poem that will help you to reflect and to write your own 100 days.
Poet James Navé has written a luminous, tender, and fierce book. It is the reader with light.

—Julia Cameron, The Artist's Way

James Navé's lyrical and revelatory communiqués confront the disease without succumbing to its perceived power. Instead, the power is in the stark moments of illumination and hard-won truths. Simply put, this book will change the way you think about survival.

—Patricia Smith, Blood Dazzler

Breaking through the chrysalis of a happy life, James Navé tells the universe he is its creation. Suggesting Whitman's "I Sing the Body Electric," he "celebrates himself" and "sings himself." The result is surprising and encouraging.

—Jacki Lyden, The Daughter of the Queen of Sheba & former Host/Correspondent NPR News.
James Navé is a poet, podcaster, teacher, and storyteller, and the co-author, with Allegra Huston, of Write What You Don't Know: 10 Steps to Writing with Confidence, Energy, and Flow, the true culmination of twenty years of teaching writing workshops in the Imaginative Storm method. A pioneer of the spoken word movement, he co-founded the landmark performance company Poetry Alive!, and in partnership with Julia Cameron, author of the perennially bestselling guide to creativity The Artist's Way, he developed and led Artist's Way Creativity Camps. He has been the Poetry Slam emcee for Asheville, North Carolina's LEAF Festival and an advisor to LEAF Global Arts since 1995. He holds an MFA in writing from Vermont College of Fine Arts.