Our Authors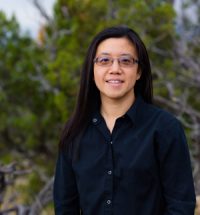 Jane Lin
Day of Clean Brightness reminds us of our commonalities—the complexity of our relationships with our parents and children, the deeply felt love and grief after loss, suffering and the unforgiving nature of disease. Life is lived in "the body/with its humors, intimate oils, the skin's/wavering—bits of inessential/growth in delicate folds." Neighbors appear with a familiarity, care, and respect as people we know and yet don't fully know.
How do we nurture bonds despite physical distance and the distance of time? For the author, it begins internally and manifests in poem after poem. She imagines the maternal grandmother she never met going "out into the night, a midwife…striding with purpose," addresses the friend who is rumored to have died, "my colleague of cellos,/stand partner, fellow cat lover, griever of mothers, mother/of daughters." Family members are portrayed with humanity in pivotal moments. When she is helpless before her mother's pain, she "clasp[s] hands, send[s] love/down [her] arm." Day of Clean Brightness too is an act of will "to honor those we love because that's all we have left."
"Tomorrow the morning sun will cast a maple's shadow. Within it, an inverse silhouette of light." Jane Lin's Day of Clean Brightness is a moving, luminous book that singularizes mourning by using close attention, surprising details, and visionary edges.

—Arthur Sze, Compass Rose

Day of Clean Brightness reverberates with the knowledge that "sorrow [is] a song we all know the chorus to." These poems are deeply rooted in both daily life and loss that "accrues like nacre around a damage point." A vivid tapestry of long bouts of illness, the loss of family members, the neighbors or friends whom one visits in the hospital. These poems are made sharp with awareness that always "what follows is the daily life." Jane Lin writes deeply and precisely of "The irreparable remnants. The wood, the spoon. The person restored to a functioning member of family." These losses are not merely personal but ancestral, historical, true to inner experience. Here what remains—memory and love—gather in every room like "the whole [that] continues to draw voice from the string."

—Rebecca Seiferle, Wild Tongue
Jane Lin is a poet and a software engineer for an environmental consulting company. She studied under Denise Levertov at Stanford University and received her MFA from New York University's Creative Writing Program where she was a New York Times Company Foundation Creative Writing Fellow. Her poem "Signs and Portents" was transformed into an art song by Emmy Award-winning composer Glen Roven for his composition "The Santa Fe Songs" for soprano and piano and appears on Talise Trevigne's album At the Statue of Venus. Her honors include a Kundiman fellowship and scholarships from Bread Loaf Writers' Conference and Taos Summer Writers' Conference. For many years she taught creative writing at UNM-Los Alamos and facilitated the Mesa Public Library Poetry Gathering series. Jane lives in Northern New Mexico with her husband, daughter, and three cats. She was born and raised on Long Island, NY.