Our Authors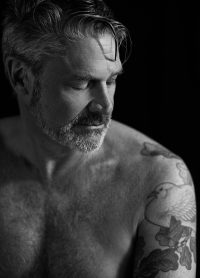 Robert Carr
In The Heavy of Human Clouds, we look into the oaks of central Maine and find trees ravaged by invasive moths; into the mirror and witness erosion between nostril and the corner of our mouths; into the future and meet a son drawing parallels between his father and endpoints on the horizon. This collection explores a collision of endings—endings in the body and on the planet. Applying a unique eye for the world, both large and small, Robert Carr leverages a speaker stargazing while sedated. We discover the desperation of maples in a new dry season; Penobscot Bay, poisoned by a drink of water as plastic piles onshore; rain that, absent global change, would have been snow. These poems climb a rugged landscape where lines between nature and the body blur. We grieve with the skinned paper birch, lose track of arm and branch as in Sugaring where blue plastic tubes/connect arteries and sugar.
A book of thresholds and interstices, of those miss-it-if-you-blink moments, The Heavy of Human Clouds honors what most of us overlook—the fleeting but critical junctures between here then gone, the liminal crux of one minute as it disappears into the next. Reading these poems is to realize each ticking of the clock is—if only you have the curiosity and courage to truly look—an instant of grace. To be such a noticer—much less a wordsmith capable of articulating these observations—takes fortitude and intention, something that Robert Carr has in a superhuman abundance. Under his gaze, so many moments become divine ephemerals—light through a small glass of orange juice, scarabs plucked from the garden, fox skins for sale at the hardware store—and become again what they always were: worthy of attention, a matter of life and ultimately, a matter of death. 

—Nickole Brown, To Those Who Were Our First Gods

Robert Carr's The Heavy of Human Clouds distills the near-death experience as all the best poetry does. Dealing with aging parents, the loss of one's mother, the aging body itself, and confronting one's own mortality—Carr's poems begin with these questions deliberately, lyrically, and with translucent lines that seem to stretch like foxes into nature. Beauty is given generously in these poems: they are written in a language where everything is risky. His forms are intimate and make his surprising insights alter, heal, ignite, and transmute. It's terrific. 

—Sean Singer, Today In The Taxi

These profoundly clear-sighted, often elegiac poems are interrogations of the natural world. They speak to how it is seen and what it allows us to see, feel, understand. What is a self and what does a self inherit? In The Heavy of Human Clouds, Robert Carr considers how we survive among ruins, how we regrow.

—Myronn Hardy, Radioactive Starlings
Robert Carr was born in Annapolis, Maryland, in 1959. He is a graduate of Bates College in Lewiston, Maine where he studied philosophy and was an active member of the Bates Dance Ensemble. Following his undergraduate work, Robert moved to Portland, Maine where he pursued a brief career in the arts as an actor with the Children's Theater of Maine. 
In 1984, Robert moved to Boston, volunteered with the AIDS Action Committee, and became the first HIV testing counselor with the Massachusetts Department of Public Health. In response to the HIV pandemic, Robert engaged in a 33-year career in public health and recently retired from the position of Deputy Director for the Bureau of Infectious Disease and Laboratory Sciences in Massachusetts.
Robert is a seven-time Pushcart-nominated poet whose work has appeared in the Bellevue Literary Review, Cortland Review, Crab Orchard Review, Lana Turner, Maine Review, Massachusetts Review, Rattle, Shenandoah, Sonora Review, Tar River Poetry, and other publications. He is a 2022 Monson Arts resident; co-editor for the 2019 Ghana Literary Group anthology, Bodies and Scars; and an active member of Writing the Land, an initiative pairing poets and land trusts in order to promote preservation.