Our Authors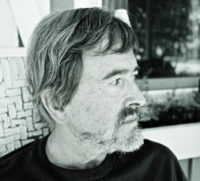 Bill Brown
James Britton once wrote, "What is memory but how we think it must have been."
In Elemental, Bill Brown masterfully combines poetry and memoir to explore "how myth invades our private lives," and from the distance of age we become our stories. Through boyhood memories, adult love and loss, and a deep reverence for the natural world, Brown's poems present the myriad seasons of life and the shadow of a man's fate. As the poet writes in his poem, "Driving the Country," "…The circle/of a man's life from birth to now/appears like asters in late fall/vibrant as a brushstroke in purple/to dapple the autumn swell."
The arrival of a new collection of Bill Brown's poetry is as welcome as the first merciful morning of a mild season. In Elemental, Brown's humane and elegy-laced voice guides us through a landscape of loss and memory with his usual hard-earned deftness. This book is a field guide to the "common miracles" that allow us to confront the costs of rootedness and love.
Bill Brown has always sought out "common miracles" in which he might lose himself "to discover something new." He calls himself "old man nobody," but his poems reveal an endlessly curious and youthful presence still seeking "the light that follows rivers" and the mystery "that shape[s] questions/a boy might ask." Turning toward "earthly sacraments" of what he knows to be "eternal," he reminds us of our most elemental nature: to wonder at existence. Ultimately, he infuses the vocabulary with these strange new words— blessing, joy, praise, everlasting—holding them against everything that closes "tight around/our tiny spot on the planet."
Bill Brown is the author of six collections of poetry, three chapbooks, and a writing textbook on which he collaborated with Malcolm Glass. During the past twenty years, he has published hundreds of poems and articles in college journals, magazines, and anthologies. In 1999, Brown wrote and co-produced the Instructional Television Series, Student Centered Learning, for Nashville Public Television. He holds a degree in history from Bethel College and graduate degrees in English from the Bread Loaf School of English, Middlebury College, and George Peabody College. Since 1983, Brown has directed the writing program at Hume-Fogg Academic High School in Nashville. He retired from Hume-Fogg in May, 2003 and accepted a part-time lecturer's position at Peabody College of Vanderbilt University. In 1995, the National Foundation for Advancement in the Arts named him Distinguished Teacher in the Arts. He has been a Scholar in Poetry at the Bread Loaf Writers Conference, a Fellow at the Virginia Center for the Creative Arts, and a two-time recipient of fellowships in poetry from the Tennessee Arts Commission. In 2011, the Tennessee Writers Alliance awarded Brown Writer of the Year. He and his wife Suzanne live in the hills of Robertson County with a tribe of cats.